13/09/2008 @ 09:15 | Anime | manuloz
Trailer : Shikabane Hime Aka (Gainax/Feel)
---
Shikabane Hime Aka - Site Officiel Voila une bonne journée qui commence, le trailer de Shikabane Hime Aka, une production Gainax & Feel vient d'être tout juste diffusée sur la chaine AT-X qui doit diffuser la série à partir du 2 octobre. C'est plutôt pas mal :) Croisons les doigts pour que le réalisateur Masahiko Murata soit aussi efficace que sur les quelques épisodes de Naruto Shippuden qu'il a réalisé.
A noter que Kikuko Sadakata se charge de la direction de l'animation sur le premier épisode, et Masahiko Murata bien évidemment le réalise et le storyboard.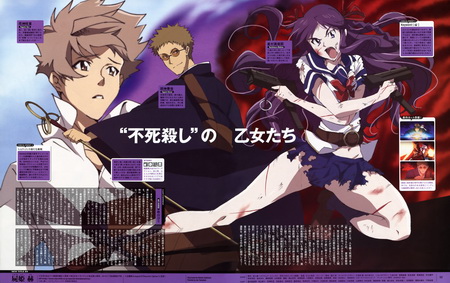 illustration : Kikuko Sadakata
Staff
Réalisation :
Masahiko Murata (Giant Robo tv, Jinki Extented)
Composition de la série :
Shou Aikawa (FMA, Nadesico, Rahxephon, Oh Edo Rocket…)
Chara Design :
Chikashi Kubota (GL #14) & Kikuko Sadakata (GL #5)
Shikabane Design :
Hirokazu Kojima (
GurrePara
)
Directeur Artistique :
Hiroki Matsumoto (Itazura na Kiss, Welcome to NHK)
Design des décors :
Yohei Kodama (Kaze of Stigma, Ghost Hunt)
Décors :
Studio Easter
Supervision de la photographie :
Toyonori Yamada (Gurren Lagann)
Coordination des couleurs :
Yumi Yuya (Da Capo II S.S.)
Musique :
Norihito Sumitomo (Ace wo Nerae (drama))
Planning & Production :
Gansis (Kare Kano, Da Capo II S.S.)
Supervison du son :
Masafumi Mima (FMA)
Production du son :
Techno Sound
Production de la musique :
Starchild
Production de l'animation :
Gainax & Feel (DA Capo) source :
2chan
.
---
Tags :
---
TRY Again! Trailer : Hyakko & Lucky Star OAV [12/09/2008 @ 08:21]
Go to NEXT! White Album : un eroge adapté au studio Seven Arcs [14/09/2008 @ 11:23]