11/06/2008 @ 21:40 | Anime | manuloz
Cobra le retour - en images
---
Cobra - Site Officiel Hihi - finalement on y arrive! Cobra nous revient en plaine forme cette année. Le studio Magic Bus en charge de la production a mis les petits plats dans les grands en nous proposant 3 projets mettant en scène le héros de notre enfance.
Première phase :
une série d'OAV en 4 épisodes
intitulé
The Psychogun
, adaptant le manga couleur de Cobra en cours de publication depuis 1995.
Le premier épisode est attendu pour le 29 aout
- l'auteur du manga
Buichi Terasawa
est très impliqué dans la production comme vous le constaterez dans le staff. Seconde phase :
une seconde série d'OAV en 2 épisodes
proposant apparemment une compilation des épisodes favoris du mangaka de la série originale. Aucune date n'est pour le moment annoncée. Le gros morceau :
une série télévisée en 13 épisodes
dirigée par
Osamu Dezaki
devrait conclure les festivités pour les 30 ans de Cobra. Encore une fois aucune date n'est annoncée. Une chose en son temps, il doit tout d'abord en terminer avec son projet de l'été
Ultra Violet
chez Madhouse. Le site japonais Ga Graphics propose
les premiers images
des OAV
Cobra: The Psychogun
dont le premier épisode sera en vente à partir du 29 aout.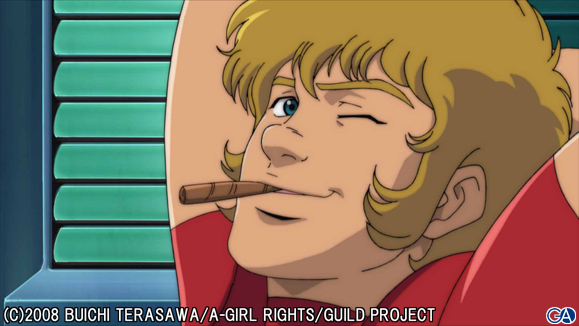 Staff (Cobra The Spychogun)
Oeuvre originale/Supervision/Scénario : Buichi Terasawa Storyboard/Direction Technique : Buichi Terasawa, Kenichi Maejima (Maou Dante) Chara Design : Keizo Shimizu (Basara) Direction de l'animation : Ippei Masui (Ayakashi Ayashi) Direction Artistique : Shichiro Kobayashi (Berserk, Tokyo Marble Chocolate) Direction de la photographie : Hideo Okazaki (Roujin Z) Musique : Yoshihiro Ike (Ergo Proxy, Dead Leaves, Reideen) Supervision du son : Keiichiro Miyoshi (Saikano) Production de l'animation : Magic Bus (Patalliro Saiyuki!) Production : Guild Project source : 2chan, moonphase, Anime Days, Cobra World.
---
Tags :
---
TRY Again! Adaptation du manga Shikabane Hime au studio Gainax [10/06/2008 @ 09:15]
Go to NEXT! Gurren Lagann Parallel Work bientot en ligne !! (édité) [12/06/2008 @ 19:37]